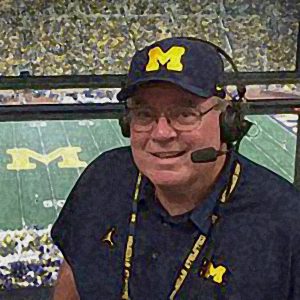 A very timely guest!
It's the latest No Filter Sports Podcast with Eli Zaret, Denny McLain, and Bob Page!
What did Bo know and when did he know it? Just one of MANY topics for us with U-M football voice JIM BRANDSTATTER!
So why would Bo allegedly allow sexual abuse by his own team doctor to go on? Eli's sources have an explosive theory!
How could Michigan lose a five-star tackle from right under their noses? The kid's own father wants to know that too.
Seven-inning games?! Eli's so upset with MLB's silliness he cries, "START THE DAMN GAME IN THE THIRD INNING THEN!"
And now MLB is one-sixth through its season. Not weird enough? As of Monday the Tigers would be in the playoffs!
Long-time sportscaster Jamie Samuelsen has died at just 48, joining a host of Detroit media members already gone too soon.
Denny's got figures on the NFL players who've opted out of the season. Bob asks again, "didn't anybody PLAN for this?"
The NBA is back! NHL too! Both leagues started off with showy Black Lives Matter displays. Has BLM gone too far now?
Bob with a bold prediction for Michigan State basketball, which just went through a VERY eventful week.
Those stories, "This Day in Sports," YOUR mailbag segment and much more coming up right here!