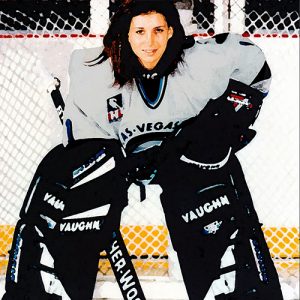 She just happens to be a woman.
It's the latest No Filter Sports Podcast with Eli Zaret, Denny McLain and Bob Page!
Wow, a WOMAN guest — our first one ever! And what better choice than hockey trailblazer Manon Rhéaume?
All the sturm und drang, all the controversy over MLB's COVID-bastardized season — yet justice is done anyway.
After seeing the talent level of the playoff teams, now it's Eli's turn to be angry with Al Avila and the Tigers. 
Denny takes exception to the hot-dogging from some of the players. Bob doesn't dig the fraternizing.
A win at Jax and now it's on to the playoffs! Don't SOME members of the media and Lions fans EVER learn? 
"Who the hell was YALE LARY?" The uneducated young generation scoffs. Bob gives 'em a MUCH-needed lesson.
And Eli gives the young an important black history lesson in his "This Day in Sports."  
Big Ten(14) football is BACK! Could lowly Rutgers destroy Mel Tucker's MSU debut? What if Harbaugh loses at Minnesota?
Take a bow mid-Michigan! Two of your native sons brought us Sunday night's thrilling Game 7.
And from Michigan's Thumb comes news of the retirement of one of broadcasting's all-time greats. 
Those stories, Bob has YOUR mailbag segment and WE'VE got much more right here!