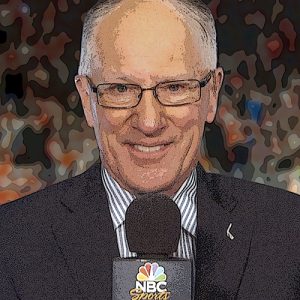 Congratulations on a career well lived.
It's the latest No Filter Sports Podcast with Eli Zaret, Denny McLain, Bob Page AND Fred Heumann!
The greatest hockey announcer EVER? Many say that about the personable MIKE "DOC" EMERICK, our guest today!
But who's interviewin' whom? Michigan resident Doc has plenty of questions for Denny about the '68 Tigers.
Eli's U-M sources report that it's all over for Jim Harbaugh. The proverbial "mutual decision" to come at year's end.
After the humiliation at Iowa, Bob asks why, among hundreds of coaches, MSU was so bent on hiring Mel Tucker.
State won't get any help this week against Indiana — at least not from Eli, who's jumpin' on the Hoosier bandwagon!
How much will new manager A.J. Hinch mean to the Tigers — and what about his coaching hires of the weekend?
The Lions go belly-up again. Let the LATEST five-year rebuilding program begin! But with (gulp!) Sheila Hamp Ford guiding it?
The Masters in NOVEMBER? It starts this week! Eli and Denny guarantee the biggest current name in golf will NOT win.
And a Red Wings favorite says a classy good-bye with a thank-you note to Detroit and his home state.
Those stories, Eli has his "This Day in Sports History," Bob has YOUR mailbag and much more right here!