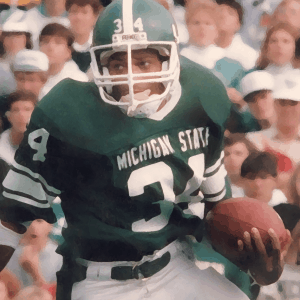 Lorenzo White…the former Spartan great.
It's the latest No Filter Sports Podcast with Eli Zaret, Denny McLain, and Bob Page!
Bo Jackson stole HIS Heisman! And so did Tim Brown! Ex-MSU superstar running back LORENZO WHITE is our guest!
Eli starts the show by admitting he's depressed these days with the world SO messed up. Bob: Join the club.
The Tigers have found life again! They're challenging for the playoffs. Denny is NOT impressed. Ditto with Casey Mize.
Is there life still left in the old man? Miggy smacks his 2,000th career hit as a Tiger and is having FUN again!
COVID-19 on the wane? The NBA now says it's going to open its bubble to friends and family of the players.
Dustin Johnson really impresses Denny and Eli despite falling in a playoff Sunday to a miraculous putt.
One of the legends of college basketball has died. Bob's not the only guy who had issues with John Thompson.
Excuse me, WHAT was that amazing pitching line on Denny McLain again?! Even HE can't believe it.
Eli has "This Day in Sports History," Bob's got YOUR mailbag segment — and much more right here!