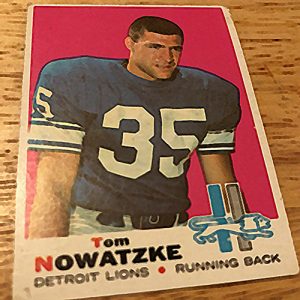 The only Lion of that era to win a Super Bowl!
It's the latest No Filter Sports Podcast with Eli Zaret, Denny McLain, and Bob Page!
Our guest is the bruising fullback, TOM NOWATZKE, on his 1960's Lions, Colts teammate Johnny U and MUCH MORE!
While pro sports leagues FIGHT during negotiations on when and how to start playing again, Eli and Bob repeat: go away til 2021.
No sports? No games to gamble on, no casinos to gamble IN! One way or another the city of Detroit may pay an awful price.
No football? Not only does Dolphins owner Stephen Ross say we WILL have an NFL season but he has unusual plans for his stadium.
Bob asks why Jim Harbaugh seemed so thrilled to recruit only a good, not great, player this week. Is it THAT bad in Ann Arbor now?
VERY different opinions among  the boys over golf and last Sunday's "The Match." If you watched it, you were NOT alone.
The Michigan House has passed a bill allowing college athletes to make extra money on the side — and Eli's apoplectic!
From Denny: the legendary overseas boxing match he actually went to! And does his ex-catcher Jim Price really HATE him?!
The latter question comes from YOUR mailbag segment. We'll have that and many other top stories right here!