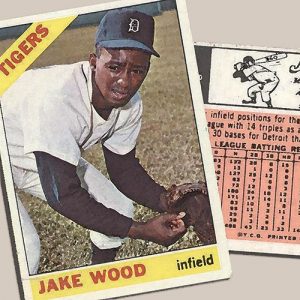 He led the league in triples his rookie year!
It's the latest No Filter Sports Podcast with Eli Zaret, Denny McLain and Bob Page!
A trash-talking softball player — in his 80'S?! THAT is ex-Tiger JAKE WOOD who still thanks baseball every day for his life
YOU'VE got nothing to do — right? So you're obviously watching EIGHT HOURS of baseball every day — right?!
All those impressive young pitchers in the MLB Playoffs? Fred's upset! He says the Tigers' kids are NOT in the same league.
Meanwhile, still another new name's in the hat to become Detroit's latest manager. But how attractive really is the job?
Bob finally gets some company on the show: Fred joins him in walking sports' COVID-19 tightrope!
Nick Saban is the latest big-name to fall victim — but HE'S ready to coach Bama versus Georgia Saturday night.
Ex-MSU All-American Le'Veon Bell already banished by the Jets. Fred knows him well. What IS this guy's problem? 
The Big (14) hasn't even started its delayed football season, yet here come Tom Izzo, Juwan Howard and basketball! 
It's The Clash of the Titans Sunday in Jacksonville and Denny has some surprising news about the FL's.
Yet it won't be nearly as surprising as when he tells you the identity of his TRUE baseball idol.
Those stories, YOUR mailbag segment and much more right here!