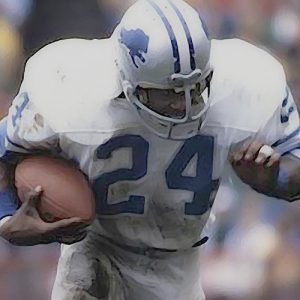 Typical Dexter Bussey: No complaints
It's the latest No Filter Sports Podcast with Eli Zaret, Denny McLain, and Bob Page!
One of the most popular Lions in memory, DEXTER BUSSEY, joins the boys on his career, unusual POST-career — AND his health! 
You'll hear the voice of legendary sportscaster Bob Reynolds on Dex. WHAT? Never heard of BOB REYNOLDS?! It's NOT all pretty. 
Not only did the Tigers actually win a GAME against Cleveland, they won the weekend series!  
Now what? Does Al Avila go for broke or does he start trading guys for more "prospects" - SUSPECTS - at the deadline? 
The PC Posse continues its takeover of sports, UNLESS, as Bob points out, you're a black NBA player making a racist comment. 
And to think of Mike Milbury being "canceled" for a totally innocuous statement — whether YOU like him as a commentator or not. 
Resident golf mavens Eli and Denny go NUTS over what Dustin Johnson did last weekend! Does Koepka eat humble pie? 
Did they just hold one of the greatest events of the sports world in veritable secrecy?! Almost seems that way! 
Denny may not like it, but one NFL team now says there WILL be fans at ITS home games this year. 
Those stories, Eli with "This Day in Sports," Bob with YOUR mailbag and much more right here!