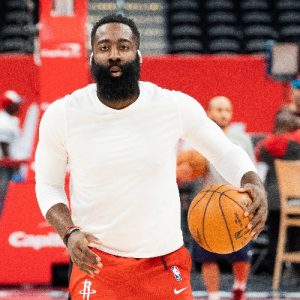 Welcome to the latest No Filter Sports Podcast with Bob Page and Denny McLain!
"How to be Miserable on $39 Million a Year." If that's not the title of JAMES HARDEN's book someday, it SHOULD be!
The NBA's chief malcontent engineers his own trade. Now he gets to play with K.D. AND the NBA's chief knucklehead.
So many games canceled, so many Draconian new rules leave one NBA player asking, "Why even bother?" 
COVID comes to Michigan sports as the Pistons miss out on another loss and MSU misses out on a likely butt-kicking!
"Butt-kicking?" Is there a term that goes beyond that? If so, you'd use it to describe the U of M's ROUT of Wisconsin.
College football: The boys offer some thoughts on Monday night's national title game in our first show since then.
Get ready to clean up because Denny's gonna make his NFL playoff predictions. YOU'LL bet the other way, of course!
URBAN MEYER leaving his cushy broadcast gig and moving to the NFL? Bob has only one question: WHY?!
The Wings finally have a formal team leader, yet ESPN says the more things change, the more they …
A BIG change for former Red Wings coach MIKE BABCOCK, but can this career shift possibly end well for him?
And on a show that NEVER pulls any punches, why should WE change now on GIBBY or on FRANK BECKMANN?
Those stories, Bob with perhaps the strangest story in Detroit Tigers history, YOUR mailbag and more right here!