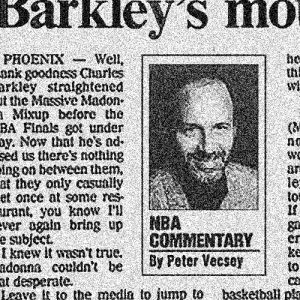 He took no prisoners. 
It's the latest No Filter Sports Podcast with Eli Zaret, Denny McLain and Bob Page!
NBC-TV and New York Post star Peter Vecsey sets down his famous Poison Pen to join the boys on – what else?! – the NBA.
We gotta do it, folks – first thing EVERY show now. The latest horrors from COVID-19 AND the panic destroying our economy.
A "sport" still going on: video game basketball! Two young producers take three geezers by the hand and explain what THAT is!
Among MORE sports cancellations? Wimbledon! The British Open may be next.
And what if horse racing's Triple Crown is called off? Four famous Tigers/ex-Tigers are dreading that! We'll tell you why.
MORE trouble for Michigan State! THIS time it involves Tom Izzo himself and it COULD be serious.
Still working? Have any money coming in? How would you like to make five grand a DAY – and not HAVE to work for it?
That's what's happening for many MLB stars while the league ponders six-man starting rotations IF baseball returns soon.
What's the ONE topic ALWAYS off the table among big-time athletes? Bob explains how a guy just violated it!
Those stories, YOUR weekly mailbag and much more right here.