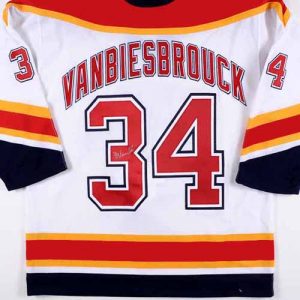 That's the way he rolls.
It's the latest No Filter Sports Podcast with Eli Zaret, Denny McLain and Bob Page!
One of the greatest hockey names in Michigan history, long-time NHL goalie John Vanbiesbrouck, is our guest!
There's WHAT Saturday night? Eli laments that a World Heavyweight Boxing Championship is just not a big deal anymore.
U-M basketball comes up with an impressive and important win at Rutgers — without Isaiah Livers.
It's official. Ex-Michigan coach John Beilein is out as head coach of the Cadaverliers. Eli's seen THIS movie before.
Denny comes up with a GREAT suggestion on how MLB should punish the Astros!
Could Giancarlo Stanton really have hit 80 homers in 2017 if HE had cheated too? Denny says NO WAY! Bob says WAY! .
Aubrey Huff's idiotic Tweets have cost him an invite to the reunion of the Giants' 2010 World Series champions. But is it right?
And the hits just keep on comin'! STILL more trouble for MSU football and its former head coach Mark Dantonio.
Meanwhile, Michigan football now has its OWN scandal going on and Eli knew the creep who was responsible for it all.
NASCAR's Ryan Newman almost DIES at Daytona, Alan Trammell COULD have in a snowmobile crash! Bob doesn't get the "need for speed."
What Piston just hit the NBA Lottery? That story, "Piggy" comes to YOUR mailbag and much more right here.