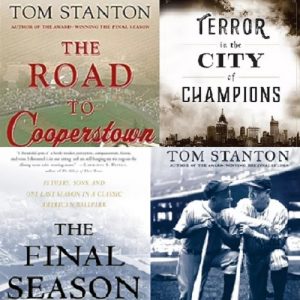 Welcome to No Filter Sports Podcast with Bob Page and Denny McLain!
"Write what you know:" the author's mantra. And few know Detroit and its teams better than author TOM STANTON, our guest!
Matthew Stafford TRADED! You'd expect the feckless Detroit sports media to love the FLs' Big Deal — and BOB to be a skeptic.
Can't we please just play the damn game?! Still MORE Super Bowl hype all week for us. Are you Super BORED yet?
In a crazy sports year few things could be crazier than Tom Izzo not making the NCAA Tournament field.
Yet come to think of it, what could be crazier than MICHIGAN supplanting Tom's MSU program so quickly?!
NCAA basketball is "modern-day slavery," huh? It isn't if the "slaves" would only take advantage of a FREE education.
The Wings' LATEST skid is six games. Brandon McAfee says firing Jeff Blashill wouldn't make a diff. Bob disagrees.
Yet maybe our young producer is right about this too since Bob seems to be coming around on Bonds and Clemens as HOFers.
Curt Schilling as well? Yes? Just think what this whacko might SAY standing on the podium at Cooperstown!
Denny was off today. Wonder what he'd say about the Brewers hiring an ex-GIRLS SOFTBALL PLAYER as a hitting coach?
Those stories, our necrology featuring a Detroit Tigers boyhood hero, YOUR mailbag and much more — right here!