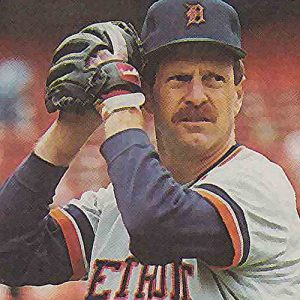 The perfect gentlemen.
It's the latest No Filter Sports Podcast with Eli Zaret, Denny McLain, and Bob Page!
Great guy! Great guest! Ex-Tiger Dan Petry joins us to talk about HIS career, son Jeff's NHL career and more!
What day is it? Who knows? Temper-temper! The boys get nasty again over their opposite thoughts on COVID-19.
Bob asks, "Is this woman a NUT?!" over Michigan Governor Whitmer's shut-down of almost the entire state!
Why no GOLF?! In FLORIDA, pro wrestling has now been deemed an "essential business!"
Think it has to do with a Dem running Michigan and a Republican running Florida? Denny says NO. Bob says YES.
The NFL has it's first Covid-19 diagnosis as MSU alum Brian Allen tests positive. He's just fine, thank you.
What's that, Mr. NFL player? You DON'T wanna play for the FL'S? Golly, why NOT?
The moment we've all been waiting for: BASEBALL is underway again! Uh, in Taiwan AND with fake fans!
Long-time pilot Denny gives us his take on the disturbing new report re Roy Halladay's plane-crash death.
Can U-M athletic director Warde Manuel survive his gaffe in the Wolverines' own sex scandal? MSU redux?!
Eli tells us there's trouble for Michigan basketball too. Juwan suddenly loses his top two recruits!
Those stories, a rising NASCAR driver turns into a pariah, YOUR mailbag and much more right here!