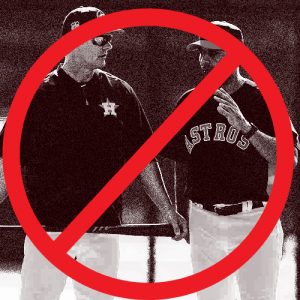 Is it an overreaction?
It's the latest No Filter Sports Podcast with Eli Zaret, Denny McLain and Bob Page!
Former Tigers pitcher Milt Wilcox is our guest. Denny first RIPS Milt — then swaps great stories with him!
Milt has a lot to say about the MLB cheating scandal. Does he think baseball overreacted? The BOYS do.
Joe Burrow is the WHAT? Bob has some strong opinions on the Heisman winner and new national champ.
"Pay it forward?" How about payin' it BACK?! After all, that's merely what OBJ was doing for LSU players.
What U-M fan would EVER suggest that Harbaugh should start CHEATING to beat Ohio State?! WE found one.
What university would EVER pay its head football coach (gulp!) $8.7 mill a year?! We'll answer that too.
Lions great Alex Karras FINALLY makes the NFL Hall of Fame. Too bad the idiots took so long to do the right thing.
NFL championship weekend is here. Who's gonna win? Denny thinks HE knows. Eli and Bob say Denny's full of it!
The NHL stunned by Vegas' firing of Stevie Y's good pal Gerard Gallant. A match made in heaven? We HOPE.
The Pathetic Pistons suddenly don't seem so pathetic. Was their future star right under their noses all season?
Those stories, the weekly mailbag featuring YOU and much more right here!