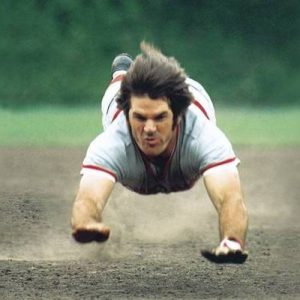 The Hit King Joins No Filter Sports
Welcome to No Filter Sports Podcast with Eli Zaret, Denny McLain and Bob Page!
PETE ROSE with us for a frank and wide-ranging interview — but one of his predictions sure was a stinker!
Bob's in Detroit and went to see LCA, the Wings, Pistons AND to learn who's listening to us — and who's not YET.
Wild stuff in MLB's Playoffs! WE bust it down and Denny busts it UP by slamming a NUMBER of participants!
More P.C. insanity in sports, from the Braves wussing out to SOME NBA-types following suit!
With another college football weekend here, MSU's problems are more OFF the field than ON at Wisconsin.
Should Michigan revamp its offense for mere Illinois or WAIT for the Penn State game? We have a DISAGREEMENT here.
Meanwhile, a different kind of controversy's going on in Happy Valley. The coach handles it; Eli and Bob are STILL pissed!
It's the Mystics versus the Sun for all the marbles tonight! Uh, WHO? And for what "marbles?" 
And Denny was working WHERE? Doing WHAT?! Those stories and much more coming up right here.