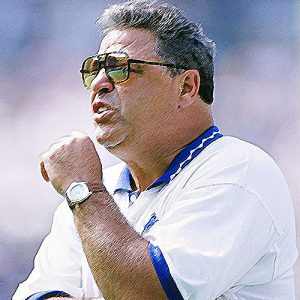 I've never burned a bridge.
It's the latest No Filter Sports Podcast with Eli Zaret, Denny McLain and Bob Page.
He's rarely been back to Detroit and doesn't do interviews — but he did with us!  Ex-Lions coach Wayne Fontes has a LOT to say.
The smackdown of Jim Harbaugh rages on — and won't get any easier for him on THIS program!
If ONLY Michigan had players like Michigan State's Joe Bachie — whom they didn't even recruit.
But Bob wonders: what's a good MSU story like Saturday's win at Northwestern without still more controversy?
The FL's author a stunning victory at Philly! And now it's on to the Super Bowl — right, you FL's diehards?
Denny goes to a Tigers' game — and his wallet won't be the same for weeks! A full accounting coming up.
He RIPS Joe Madden, the manager of his own beloved Cubbies, yet somehow defends Derek Jeter's woeful Marlins?!
Now on a ROLL (or maybe just in a BAD mood?) Denny claims MIGGY is dogging it.
The boys decry the continued abuse of Detroit, Eli now helping NFL fantasy players and the Cincinnati, uh, GREENS? 
Those stories and more right here.