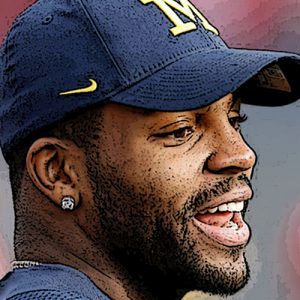 Harbaugh's been there for five years now…name someone that he's brought in.
It's the latest No Filter Sports Podcast with Eli Zaret, Denny McLain and Bob Page.
Former Michigan and NFL star Braylon Edwards joins us to discuss his new book, his career, family AND to argue with Bob!
This after being suspended by the Big Ten Network last year for ripping U-M football's current state.
When bad things happen to good people: the boys eulogize the late Fred McLeod.
Eli talks about a guy he knows well: Dennis Rodman, the subject of an ESPN "30 for 30" this week.
The Antonio Brown saga just might end, not with the Pats, but in a PRISON CELL, while OBJ continues to make a fool of himself!
Mark Dantonio on the cusp of overtaking Duffy as the winningest coach in MSU history. Bob BEGS for perspective!
A new law in Cali will allow college athletes to be paid by 2023. The NCAA is gonna fight! What does it all portend for college sports?
7Plus another of our "Adventures With Denny," YOU on our weekly mailbag segment and much more right here.