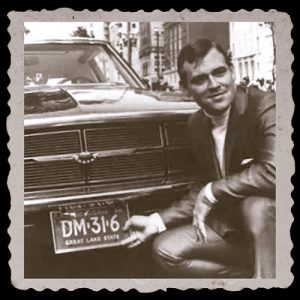 It's a Ford Thunderbird, and I still had my fastball then!
It's the latest No Filter Sports Podcast with Eli Zaret, Denny McLain and Bob Page.
Are the Tigers planning to name one of their biggest ex-stars manager? SHOULD Gardy go?
Could be worse. After Derek's Jeter's destruction of the Marlins, the Tigers still draw much better than THEY do!
Football is back and Denny alleges that Michigan and Michigan State are playing "all-girls teams" to start the year!
Bob says you can't talk about MSU any more without including its latest embarrassing news.
Et tu, DUKE?! Zion Williamson will begin his NBA career with lawsuit after lawsuit.
Wesley Walker is one of the latest ex-NFL stars who's in big trouble over what the game did to his body.
Eli and Denny equate this whole sordid injury situation to the #MeToo movement.
And our mailbag segment includes a great pic of a young Denny and his "mystery car."
Those stories and much more coming up right here!