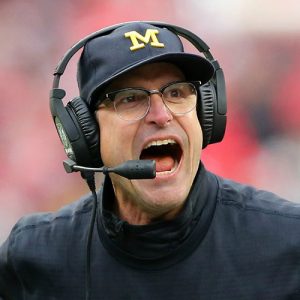 Until you beat Ohio State, just shut up.
It's the latest No Filter Sports Podcast with Eli Zaret, Denny McLain and Bob Page.
A "cheese champion?!" Eli asks — and Denny answers, "YES, who the hell is Shane Lowry?!"
And who the hell was that hot brunette caddie at the Open who "doesn't know much about golf?!"
Is Tiger finally done? Is Ron Gardenhire finally done — of his own volition?
Meanwhile, Denny is back from Cooperstown but his great teammate, Al Kaline, did not go this year. Could "Mr. Tiger" be ill?
Jim Harbaugh and some Michigan fans are talking big when they shouldn't be talking at ALL — at least until M beats the Bucks!
A discussion of politics on a sports show? That's causing big waves again at ESPN — but not on OUR show!
Eli delves into the world of MMA  for the first time ever while Bob and Denny sit in shocked silence.
Those stories and much more coming up right here!