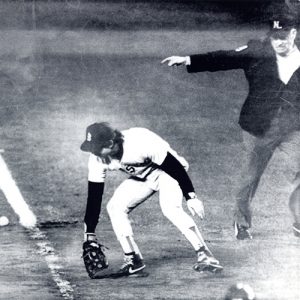 A career comes down to one play.
It's the latest No Filter Sports Podcast with Eli Zaret, Denny McLain and Bob Page.
Buckner's untimely demise hits home with Eli, who waxes poetic on what Bill's life was really all about. 
Meanwhile, Denny GOT waxed gambling on "The Buckner Game" in prison. He lost WHAT?!
The sports world has also lost Bart Starr, unleashing a wave of nostalgia from the boys.
The Tigers say they've "bolstered" their bullpen — but lotsa seats are empty in Comerica. Is it Casey Mize time?
MSU lands a new president AND a hot-shot player for Izzo.
Uh, and btw, where's Juwan been lately?
Bob rants on the bogus "Michigan Sports Hall of Fame" and on creeping "hip-hopism" in sports.
Those stories, controversy over the upcoming Detroit Grand Prix and much more right here!