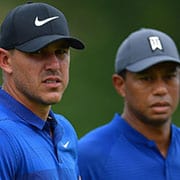 Koepka is the only one besides Palmer, Nicklaus and Woods to have one four majors in a two-year span.
Welcome to No Filter Sports Podcast with Eli Zaret, Denny McLain and Bob Page!
Brooks Koepka — the NEW Tiger!!! "Bull-bleep he is," say the boys!
By week's end Michigan could have its new basketball coach. Fab-Fiver Jimmy King joins us with his thoughts.
Denny wonders, if the Tigers now have a "quality control coach," then where the hell is the "quality?!"
Are the boys Democrats, Republicans or something else? YOU'LL never know — though a couple miffed listeners think THEY do.
Too good for the Clips, Rockets, Blazers — too good for anybody, especially thanks to Draymond. Kevin Durant who?
The NHL playoffs? As usual, Eli and Denny plead ignorance while Bob wants Larkin and Mantha home for the Worlds — NOW.
Those stories, the death of boxing and much more right here!