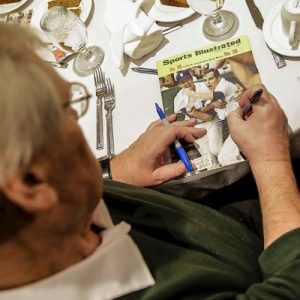 This is the industry known as Dennis Dale McLain.
It's the latest No Filter Sports Podcast with Eli Zaret, Denny McLain and Bob Page.
The boys break down the two-thousand-nineteen (twenty-nineteen, dammit!) NFL Draft.
93-year old Mrs. Ford and her two daughters were in the FL's war room! Did they (gulp) call any of the shots?!
Knock, knock. "Who's there?" "A guy." "A guy WHO?" A guy who demands to see Denny right now during the show!
Eli deservedly unhappy that he wasn't interviewed for a new doc on the '84 Tigers.
Just par for the course with the (mostly) lame Detroit sports media? Bob blows up on that subject — again.
Why all the strikeouts in MLB, Eli with a baseball rules check, thumbs up on Draymond, down on Babs — and much more right here.
Photo credit: Lathan Goumas/The Herald News